Now Minimatik too: This time the German Design Council's very prestigious award has gone to the latest model from the successful watchmaking company
Glashütte/Berlin, November 2016. NOMOS Glashütte's winning streak continues: Minimatik has just been announced as the winner of the highly coveted German Design Award. Created by designer Simon Husslein, Minimatik is the latest automatic timepiece from the Glashütte watchmaking company and part of the neomatik series. Moreover, it was tailor-made for the super-slender automatic caliber DUW 3001.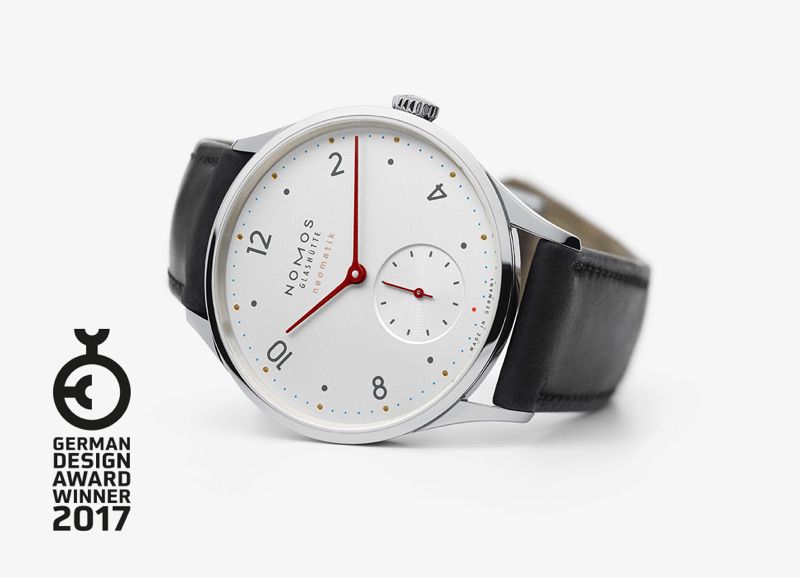 Minimatik won over the German Design Council's expert panel with its perfect form: domed sapphire glass, curved case, and refined lines make this timepiece youthful and elegant. A white silver-plated dial, bright red hands, and a black Horween Genuine Shell Cordovan strap complete Minimatik's reduced aesthetic. Furthermore, this watch does not only shine through its fine proportions and outstanding accuracy, but also its swing: NOMOS' own highly praised, exceptionally precise escapement—the ticking heart of the movement.
After Red Dot, Good Design, iF Gold, and "Watch of the Year" awards, the German Design Award is the fifth consecutive major prize for Minimatik. "We're delighted to see our latest model receive so much praise from experts in the field—watches like this bring joy!" says Head of Branding Judith Borowski about NOMOS' continued success, adding that "sometimes products need to talk quietly to be heard."
NOMOS has been making fine timepieces in Glashütte since 1990, many of which are now considered classics. The watchmaking company is the market leader for mechanical watches 'Made in Germany' and exports its timepieces to around 50 countries.
Source: nomos-glashuette.com
The NOMOS collection is available at Ace Jewelers.