The German watchmaking company has won gold at the German Brand Awards—and now ranks among Germany's top brands
Glashütte/Berlin, June 2016. Gold for NOMOS Glashütte: The watchmaking company is the "Best Brand in Luxury." The prize, presented in Berlin on Thursday at the German Brand Award ceremony, recognizes impactful branding, best-in-class brand management, and enjoys wide renown—also beyond professional circles. The goal of this award is discovering and recognizing pioneering brands and brand makers. The German Design Council, which founded the award, was created by the German Federal Parliament in 1953, and is among the leading expertise- and knowledge transfer centers around the world in the area of design.
The expert jury headed by Andrej Kupetz, Chief Managing Director of the German Design Council, chose NOMOS Glashütte in the "Best Brand in Luxury" category. The brand is considered to be "groundbreaking"—and not only the brand, but also its design: "Branding and design are two disciplines inextricably linked to each other, and the value of their contribution toward a companies' success has increased significantly in recent years." This can also be clearly observed in NOMOS Glashütte's case.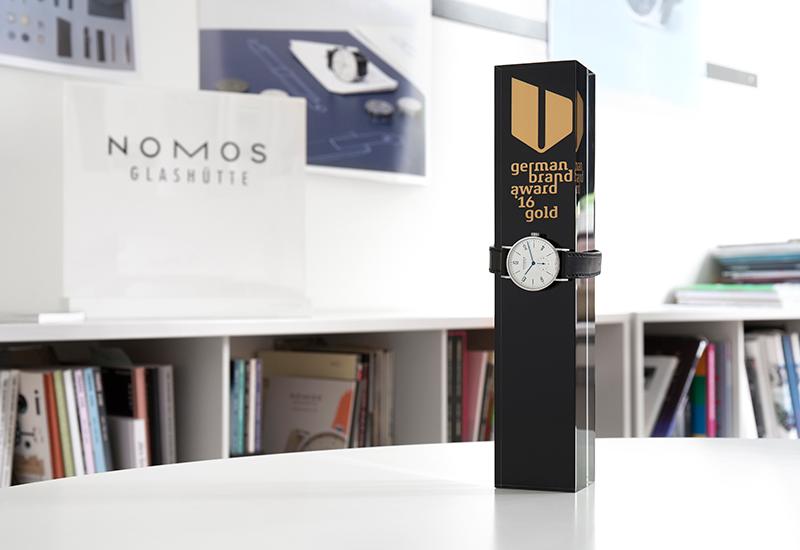 The distinguished manufacturer has been producing mechanical watches in Glashütte since 1990—with many of its designs now considered classics. Today, the company leads the market for mechanical watches "made in Germany," and exports its timepieces to over 50 countries. In the last three years, the owner-operated company has doubled in size, now employing over 260 people—and is projected to continue its growth.
Both new designs and the company's innovative marketing are created at the NOMOS inhouse creative agency Berlinerblau, based in Berlin—a perfect symbiosis, which also won over the jury.
Head of Branding Judith Borowski said upon receiving the prize: "We are overjoyed. Being named 'Best Brand in Luxury' and classing among the best brands in Germany demonstrates that we are doing something right—and that our sometimes rather idiosyncratic route is the right one. Thus, we will simply continue doing what we are doing."
Source: nomos-glashuette.com
The full NOMOS collection is available at Ace Jewelers.